COVID-19
Safety and Precautions
Our top priority is the health and wellness of our clients, as well as our staff.
While the current risk level in Alberta is low, we encourage the following guidelines set out by Alberta Health:
• To protect yourself, use good hygiene practices, such as frequent handwashing
• Cover coughs and sneezes
• Avoid touching eyes, nose and mouth with unwashed hands
• Stay at home and away from others if you are feeling ill
If you have symptoms like fever, cough or shortness of breath, please do not go to a health care facility. Rather, contact Health Link 811 for assessment and testing.
It is also advised that if you have traveled outside of Canada within the last 14 days, monitor your symptoms, like fever, cough or shortness of breath for 14 days after returning.
Our place of business has implemented the following action plan:
1. Our staff are taking measures to sanitize door knobs and any high contact areas within our business. If you are unwell, please do not come to our office, call and we will help you over the phone.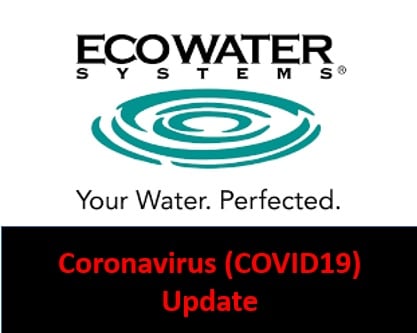 2. On the day of your call, our technicians will be reviewing the appropriateness of the technician coming to your home that day for the service/install. If anyone within the home is feeling unwell, we will reschedule your service/install.
3. Our technicians have the authority to not do a service/install call if they show up and someone at the premises is unwell. This is a judgement call and please respect the decision they make as it is not only for our employee's protection but yours as well. We will reschedule your call to a later date.
We will keep you updated should the situation change.
Thank you for your co-operation!
Warm Regards,
Aaron Biffert
Co-Owner/President
EcoWater Systems Calgary